MIMC conducts 4-day pilgrimage tour to ancient spiritual places
Distributes relief materials to the needy, counsels people about COVID-19 pandemic
By
Reach Ladakh Correspondent
Leh, Aug 04, 2020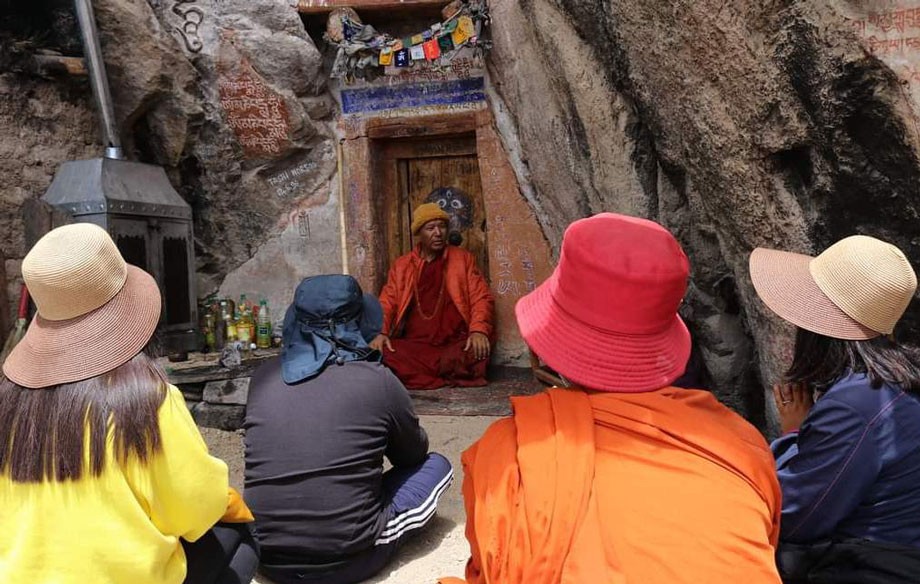 Leh :
Mahabodhi International Meditation Centre, Shangrila group lead by Bhikkhu Sanghasena conducted a four-day pilgrimage to ancient hermitages, caves, monasteries, and meditation retreat centre.
The team visited villages including, Sumdo, Saspoche, Hemis Shukpachan, Dakmar Gonpa, Ang, Khar, the famous temple of Avaloketeshra, Chamba, the temple of Maitreya Buddha of Timisgam village, Khasa Gonpa of Tia, Lamayuru and the very ancient and famous Atitse- meditation retreat centre.
They meditated and offered a special prayer for the corona virus free world and world peace at each holy caves and temple.
Ven. Bhikkhu Sanghasena also distributed relief materials to needy families in each village. Also, counseling on how to combat and win the fear of Corona pandemic among people was imparted. As a part of MIMC COVID relief program, Bhikkhu Sanghasena announced a donation of ₹ 50,000 to the welfare of Lamayuru Village, ₹ 25,000 each to the Lamayuru and Atitse monastery. 
People from each village extended warm reception to Ven. Bhikkhu Sanghasena and his team. The Shangrila team of MIMC presented Healing Mantras and Divine songs to the gathering.
The Dakmar Cave in Hemis Shukpachan Mountain is famous in the entire Himalayan region. Bhikkhu Sanghasena after finishing his monastic study and training, return to Ladakh in early 1980s. Before establishing Mahabodhi International Meditation in Leh, he spent some of his most valuable time in this Cave meditating.