Low-key Hemis festival celebrations amid COVID-19 restrictions
By
Stanzin Dasal
Leh, Jun 22, 2021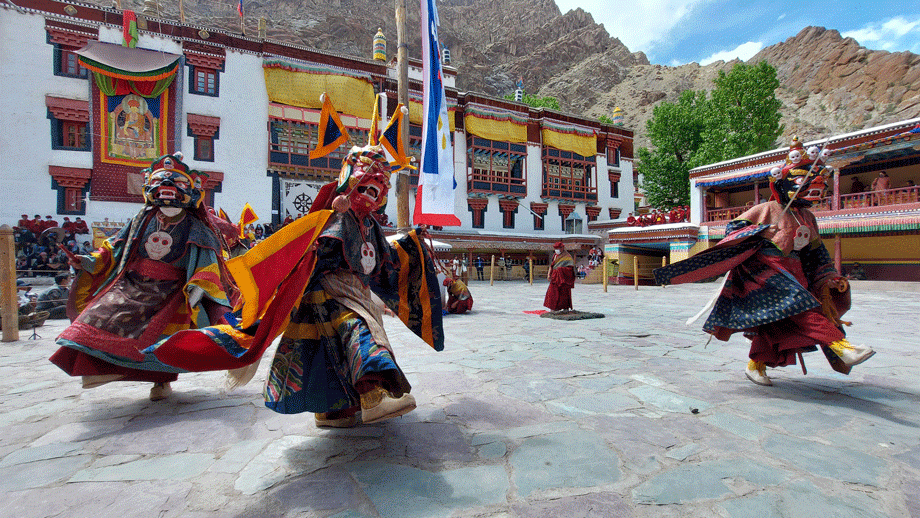 Leh :
Commemorating the birth anniversary of Guru Padmasambhava, the two-day Hemis monastery festival,'Hemis Tsechu' was celebrated in a subdued manner without holding big congregations June 20 and 21 due to the restriction imposed to contain COVID-19 pandemic. 
On the first day, the silk brocade of Tsangpa Gyare Yeshe Dorje, the first Gyalwang Drukpa was displayed for the blessing.  Followed by brass mask dance, the eight manifestations of Guru Padmasambhava perform the dance displaying the principles that the guru spontaneously demonstrated as per different circumstances.
Nawang Otsal, Chakzot, Hemis monastery said that due to the pandemic the festival which usually attracts thousands of devotees is being organised low-key to avoid crowding.  
"All the Rinpoches at their respective monasteries are carrying out prayers and rituals for all the people who are suffering from COVID-19 and to overcome the fight against the pandemic. We are hopeful that soon we will get over with this pandemic", he added.
On the last day, the silk brocade of Gyalsras Rinpoche was unfurled and displayed for blessing. The monks assemble and worship Gyalpo Pehar (Dharmapala), the protector of Hemis.  Sacred mask dance, Maning (The protector Mahakala as Maning), Serkyem, Hashang and Hatuk were performed.