'Lhu tang Lhuyangs' book on Ladakhi folksongs released
By
Padma Angmo
Leh, Dec 20, 2014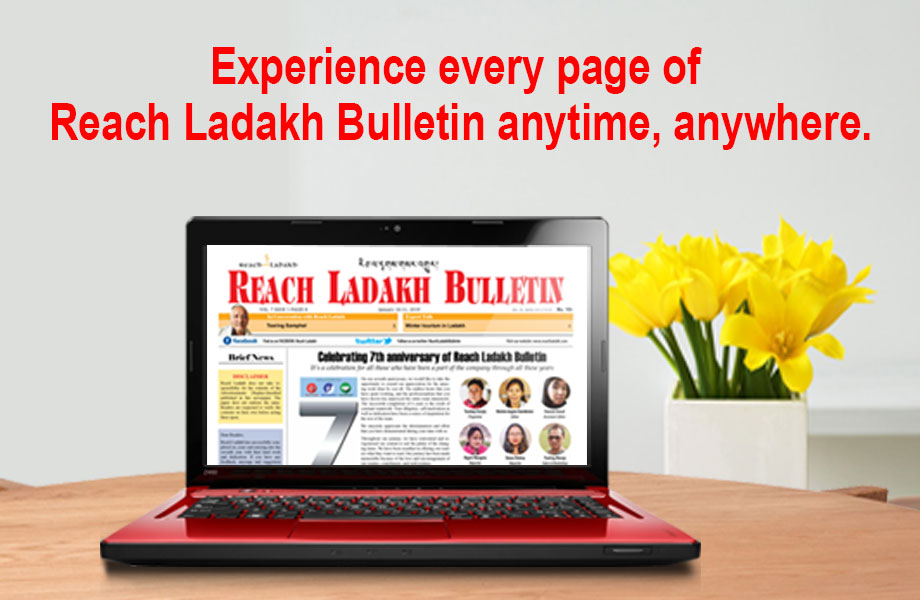 Leh :
Jammu and Kashmir Academy of Art, Culture and Languages, Leh held a book release ceremony based on Ladakhi Folk songs on December 15 at Lotsava Auditorium Hall, Leh. Three volumes of books were released named "Lhu-tang-Lhuyangs" besides that concise English to Bhoti Dictionary composed by AIR News editor Diskit Dolma was also launched.
Chief Guest Rigzin Spalbar (CEC) Leh initiated the programme by lightning the traditional lamp in the presence of other eminent folk singers like Padma Shree Morup Namgyal; Tsewang Dorjey, Scholar; Tsering Chosphel, Editor; Mipham Otsal, composer of the Folk songs; Tsewang Paljor Spl. Officer for Culture and other Artists.
Rigzin Spalbar delivered in his speech that a great change is spreading in our culture affecting the vast generation of Ladakhis, such changes enriches the culture with new creative ideas making it distinctive as compared to the ancient culture. He also added that it is necessary not only to preserve but also to bring changes from time to time by implementing, following and adding fragments of ancient culture which makes it more traditional in the contemporary world. He said that as the children are still nurturing and imbibing the societal thoughts, in this regard it is vital to inculcate those moral values and good tradition in them for which our Ladakhi culture is rich and famous for. He further assured that Hill council will give full support to Jammu and Kashmir Academy of Art, Culture and Languages, Leh for organizing such events in future. He congratulated them for their commendable work and recommended that these books be facilitated to all the school Libraries as well as to public.
Padma Shree, Morup Namgyal in his speech said that his thoughts have finally come alive as he had wished that such kind of entitled folk songs books are published which, he added, are necessary in order to keep a record of our culture. He hoped that these books reach in every corner of Ladakh and to its people as these traditional songs keep the society alive.
Sangeet Natak Awardee Mipham Otsal in his speech expressed the moral value of our cultural folk songs which is incredibly displayed in the music compositions and lyrics. He suggested that the younger generation interested in traditional folk song of Ladakh must keep up their curiosity to learn more.
The contributors of the book were honored by citation and khatags. The Ladakhi film named "Twenty Years" which had achieved the "State Best Film Award" was also offered with a token of appreciation. The director and the actress of the film had received the title of best director and best actress, were also given a token of appreciation.
Tsewang Paljor Special Cultural Officer thanked all the renowned composer, writers and singers to have taken initiative for making this event possible and successful. The occasion ended with the vote of thanks given by Thubstan Norboo, Assistant Editor.