Leh observes Dosmoche festival; prays for peace and prosperity
By
Stanzin Dasal
Leh, Feb 23, 2020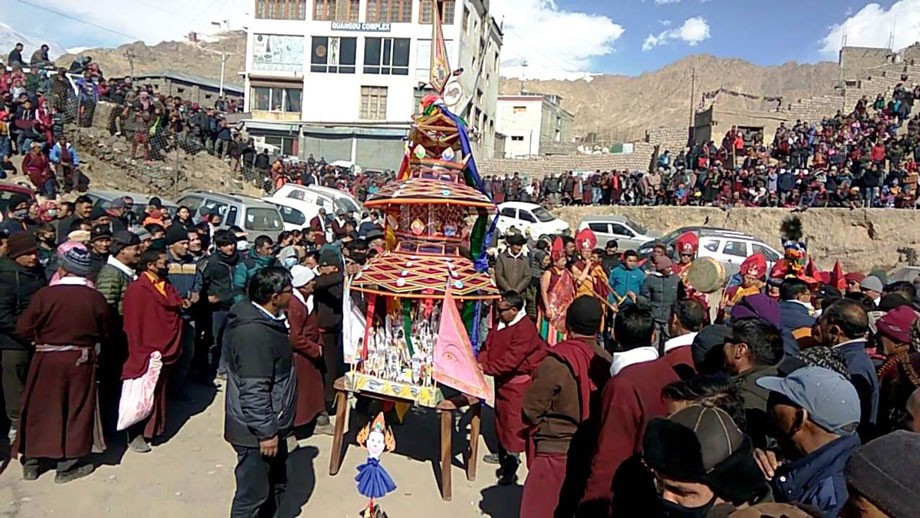 Leh :
Praying for peace and prosperity in the region, annual religious festival 'Dosmochey' was observed with religious fervor and festivity on February 21 and 22 in Leh.
The festival was organised by Leh Phudho which consists of villages from Gangles to Skara
 
This year 'Dhos' thread crosses were prepared by the monks of Takthok monastery and 'Storzhok' ritual effigy by the monks of Stakna monastery. Sacred mask dances (Cham) of Hatook, Hashang, Gonbo Gonkar, Lhamo Namses, Chamsing Kitapala, Shawa & Dzo, Serjunma, Shawa Nyes Cham, Zhanak Serkem, Nasol, and Chamjuk were performed by the monks of Thiksey monastery at Leh Chowkhang Vihara.
 
On the last day of the festival the ritual effigy was ceremonially burnt symbolizing the driving away of evil spirits and to bring peace and prosperity among the people.
 
The two days festival attracts thousands of people from all region of Ladakh. Along with the sanctity of mask dance and rituals, people also enjoy shopping, Ladakhi cuisine, tambola, ring game, and lotteries etc. 
 
It is believed that the rituals of Dosmoche are performed to cast away the evil spirit, war and diseases in the region and to bring peace and harmony among the people.
 
Meanwhile, the festival is also observed in Likir. 
 
Known as a prayer festival, Dosmoche was introduced by the rulers of Ladakh. The festival is very similar to the popular – Mon-Lam, 'Great Prayer Ceremony of Lhasa'.