Leh celebrates World Theatre Day with great enthusiasm
Theatre is a complete subject which develops the body, speech, and mind of an individual, says Mipham Otsal
By
Stanzin Dasal
Leh, Mar 30, 2019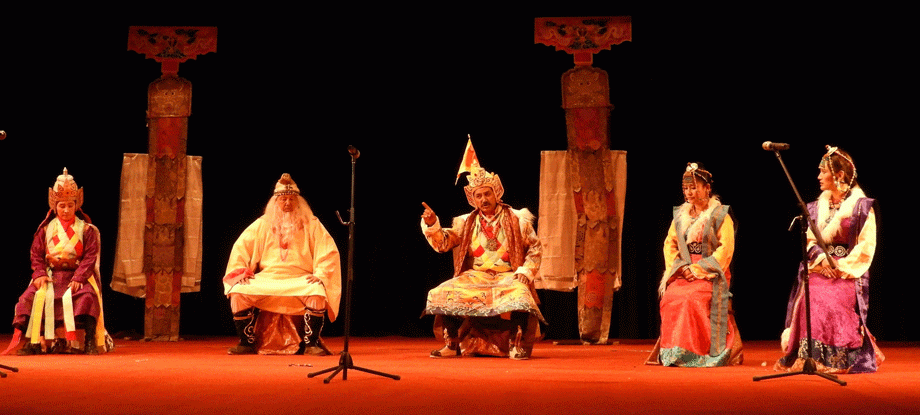 Leh :
Marking the celebration of World Theatre day, two plays 'Horling' and 'Khoj' directed and dramatized by Mipham Otsal, President, Ladakh Theatre Organisation was showcased on March 27 at Nagarjuna Auditorium, CIBS.
The day was organised by J&K Academy of Art, Culture and Languages, Leh and Ladakh Theatre Organisation.
Congratulating everyone on World Theatre Day, P T Kunzang, Vice President, LBA said, "Today Ladakh is famous and the identity of the people is alive because of the rich culture, tradition, and heritage. It is our responsibility specially the young generation to preserve and promote it."
He further appreciated the artist of the two plays specially the students for active participation and learning the art. 
The play titled 'Khoj' was performed by the students who took part in two weeks theatre workshop held from February 15 to 28. 
Talking about the absence of Theatre in Education subject in the J&K Educations system, renowned theatre expert, Mipham Otsal said, "Theatre is a complete subject which develops the body, speech and mind of an individual. The development of these three aspects is essential to excel and be successful in any field or profession. In foreign countries, they teach the basic subjects to a child in a playful theatrical way which further develops the thinking ability and speech."
Highlighting lack of space and auditorium in Leh to showcase the talent of an artist, he said, "For an artist, a place to showcase his / her talent is very important, but it is unfortunate that we don't have space to perform, promote and develop the art." 
Dr. Thupstan Nurboo, Assistant Editor, Culture Academy, Leh congratulating everyone on World theatre day spoke about the importance of theatre.
He said, "Theatre is included in 10 streams of knowledge 'Rig-nas Chu' but unfortunately it is neglected. There are many schools in the country where 'Theatre in Education' is made a compulsory subject to bring positive changes in one's life by inculcating positive attitude, thinking ability, language importance and many other aspects".
He said that theatre subject is important to inculcate among every individual to develop the body, speech and mind thus making them a selfless, honest and true human being.
"Theatre is not just about entertainment it is considered as the mirror of the society through which they disseminate the reality among the people", he added.
The participant's students of theatre workshop also shared their experiences. Also, Tsewang Nurboo a student of Theatre workshop also presented a self-made Thanka  painting to Mipham Otsal as a token of gratitude.