Ladakh celebrates 85th birth anniversary of His Holiness Dalai Lama.
By
Stanzin Dasal
Leh, Jul 06, 2020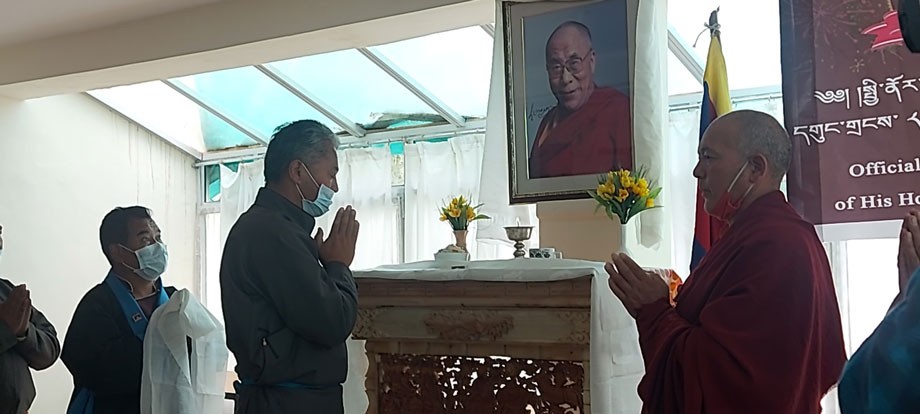 Leh :
Congratulating and praying for His Holiness Dalai Lama's good health and long life on his 85th birthday, Ladakh Buddhist Association, All Ladakh Gonpa Association, and Sonamling Tibetan Settlement jointly organised a symbolic celebration on July 6 at Jivetsal.
P T Kunzang, President, LBA said that due to COVID-19 pandemic, this year His Holiness birthday is being celebrated with a small gathering. On behalf of the people of Ladakh he wished and prayed for Dalai Lama's long life and hoped for his visit to Ladakh next year.
Chief Representative Officer, Tsetan Wangchuk talked about His Holiness Dalai Lama's message to his followers on his 85th birth anniversary. His Holiness asked his followers to recite 'Om Mani Padme hung' mantra 1000 times.
Tsetan Wangchuk further reiterated four commitments of Dalai Lama which include oneness of humanity, preservation of Tibetan Culture and environment, promotion of religious harmony, and revival of Ancient India knowledge. He urged everyone to create awareness about the four commitments of His Holiness and also practice it in our daily life.
The representative of Gonpa Association, Presidents of LBA women, and youth wing also spoke on the occasion.   
 
His Holiness the 14th Dalai Lama, Jetsun Jampel Ngawang Lobsang Yeshi Tenzin Gyatso was born on July 6, 1935 in the small village of Taktser, located in the province of Amdo. He is believed to be manifestations of Avalokiteshvara or Chenrezig, the Bodhisattva of Compassion. In 1959, following the brutal suppression of the Tibetan national uprising in Lhasa by Chinese troops, His Holiness was forced to escape into exile. Since then he has been living in Dharamsala, Himachal Pradesh. In 1989, he was awarded the Nobel Peace Prize for his non-violent struggle for the liberation of Tibet.