Hands-on training held for Panchayat secretaries, BDO in listing heritage sites
By
Reach Ladakh Correspondent
Leh, Jan 17, 2022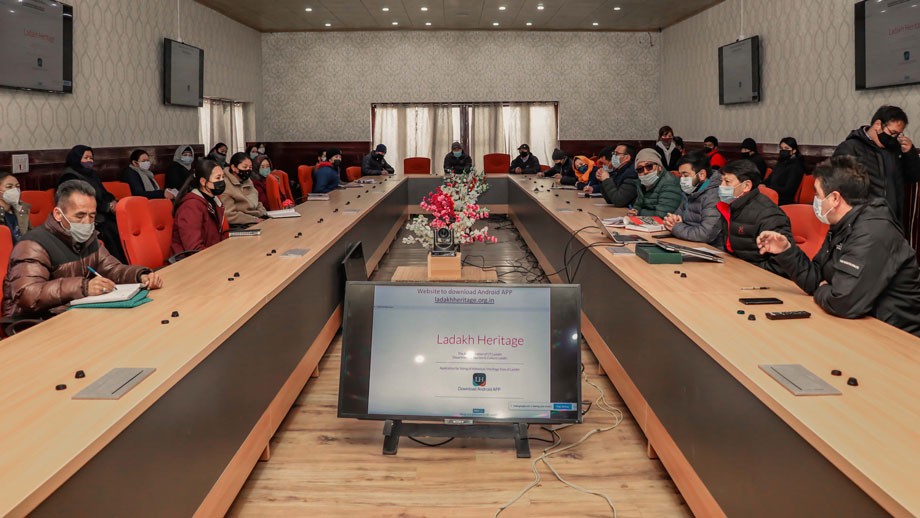 Leh :
Hands-on training of listing heritage sites on 'The Ladakh Heritage App' to the Panchayat secretaries and Block Development officers held on January 14 at DC Conference hall.
The workshop was organised by the Department of Tourism & Culture in collaboration with the Department of Rural Development Ladakh and NIC Ladakh. The team was directed and guided by Secretary Tourism and Culture, Kacho Mehboob Ali Khan. The workshop was attended by around 40 participants physically and 48 participants joined virtually. 
'The Ladakh Heritage App' is designed and developed by NIC Ladakh in collaboration with the Archives (Antiquities) Department, Ladakh, and ASI, Leh. The workshop aimed at providing hands-on training on listing heritage sites on the App to the Panchayat Secretaries and Block Development Officers. 
Technical Director, NIC Leh, Phunchok Paldan along with his technical team gave a brief presentation and demonstration on how to operate the App. Registering Officer, Antiquities, Leh, Khadim Hussain emphasized the importance of listing heritage/historical sites. Assistant Commissioner Development, Rural Development Leh, Sonam Norboo stated that the Panchayat Secretaries and Block Development Officers play a very active role and requested them to ensure active participation. The training will be followed by a five-day trial period. 
A similar kind of workshop was conducted in the Kargil district as well.