EC Chandan inaugurates three days Ladakh Winter Carnival
Colorful cultural programmes, archery matches enthralled the audience on first day
By
Reach Ladakh Correspondent
Kargil, Feb 17, 2021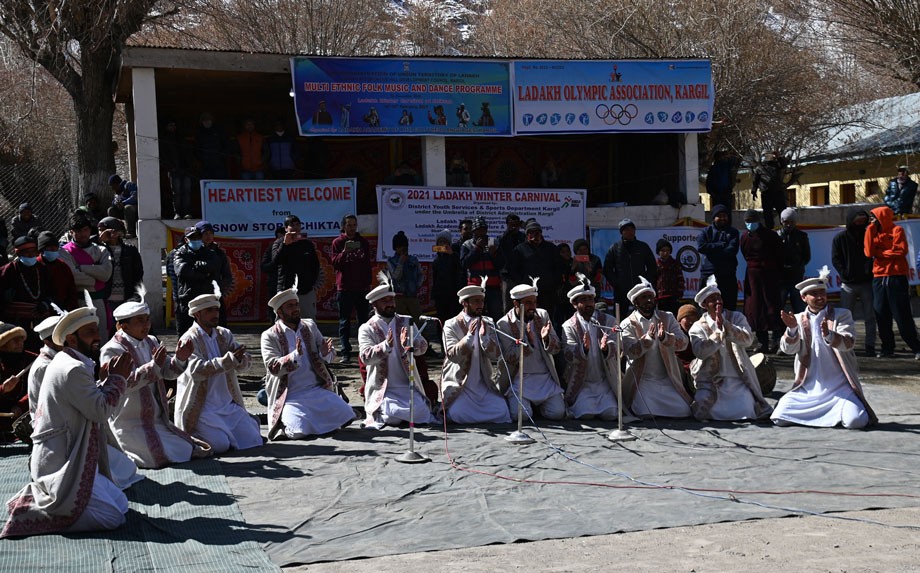 Kargil :
Executive Councillor for Agriculture, Muhammad Ali Chandan inaugurated 3 days Ladakh Winter Carnival, 2021 at the historic Chiktan Shagaran on February 16. 
The 3-day winter carnival has been organized under the aegis of the District Administration Kargil with support from the District Youth Services and Sports Department Kargil, Ladakh Tourism Department Kargil, Ladakh Academy of Art, Culture and Languages Kargil, Shakar Chiktan Tourism Development Committee, Ladakh Olympic Association, Archery Association of Ladakh, Kargil Ice and Snow Sports Club, Cultural and Educational Welfare Association Chiktan and Snow Storm Chiktan. 
EC Chandan congratulated the people of Shakar Chiktan for conducting the 1st ever culture and sports winter carnival in the area. He said that the event will go a long way in boosting the cultural and heritage tourism in the area, which is rich in cultural legacy and ancestral folklore.
 
Making mention of the steps being taken by the Government towards the promotion of tourism in Shakar Chiktan, the EC said that a separate proposal for the restoration of the historical Chiktan Razi Khar is in the pipeline, and the UT Administration and the LAHDC, Kargil are fully committed to undertaking serious and sincere steps on this front. 
Responding to the demands of the Shakar Chiktan Tourism Development Committee, he assured that signages with necessary historical descriptions will be arranged at all sites with tourism potential and historical eminence in the area. 
He urged the public representatives and PRI members to continuously pursue their demands related to tourism development in the area with the higher authorities, so as to pave the way for taking up the required measures in this regard. He also suggested that they frame proper lists of potential tourism, heritage and pilgrimage sites which could be forwarded to the concerned departments for their development. 
Councillor Chiktan, Mohsin Ali underlined the need for coordinated efforts to make the winter carnival an annual event of national importance in the years to come. 
The BDC Chairperson, Sayeda Banoo projected various demands including the inclusion of Ladakh Winter Carnival in the annual activities calendar of the Tourism Department Ladakh, free inner line permit for tourists visiting the area, restoration of Chiktan Palace, erection of signages, introduction of trekking routes, homestay facilities, restoration of Api Strinjangmo Cave, Hinaskot Palace, Bodh Kharboo Palace, Stakchay Palace and hot springs, creation of Tourism Development Authority in the subdivision, renovation of historic Chiktan Shagaran and other related demands. 
More than 25 archery teams and 150 folk artists of the Balti, Purgi, Shina, Dardi, and Aryan Dardi folk artists are participating in the 3-day carnival. Meanwhile, on the maiden day of the festival, solo and group-based folk artists from Shakar Chiktan, Kukshow, Fokar, Khachay, Hinaskot, Drass, Hardass, and other parts of the district presented colourful traditional music and dance performances while several traditional and modern archery matches were also played.