District Level Multilingual Mehfil-e-Mushaira held in Kargil
By
Reach Ladakh Correspondent
Kargil, Jun 27, 2022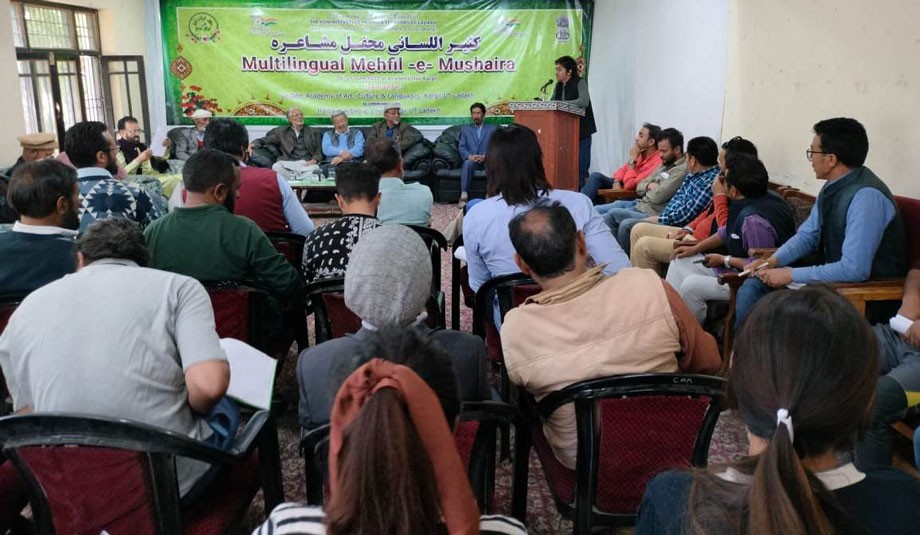 Kargil :
Ladakh Academy of Art, Culture & Languages, Kargil in collaboration with Halqa-e-Arbab-e-Zouq jointly organized a District Level Multilingual Mehfil-e-Mushaira under the banner of Azadi Ka Amrit Mahotsav on June 26.
Around 34 poets from different parts of Kargil recited their compositions in different languages. 
Kacho Asfyandar Khan Faridoon (retired IAS) was the chief guest, while Padma Shri awardee Akhone Asgar Ali Basharat, a renowned Balti writer and poet was the Sader-e-Mehfil-cum-guest-of-honour on the occasion.
Kacho Asfyandar Khan Faridoon lauded the efforts of the Ladakh Cultural Academy, Kargil, and Halqa-e-Arbab-e-Zouq, Kargil for jointly organizing such graceful and fruitful programs from time to time. He termed the poets as the eyes of the society who can play a great role in eradicating the social evils through the persuasive power of their poetry. He also lauded their efforts for taking a keen interest in the realm of poetry that has no apparent benefits in terms of money.
He also urged the Deputy Secretary, Cultural Academy Kargil to organize such literary programs at different places to disseminate the poetic tradition and message to wider audiences.
Padma Shri awardee Akhone Basharat Ali said it is a matter of great satisfaction that the land of Kargil has a good number of poets in such a small magnitude the population as compared to other places. He applauded the role of poets in Kargil in guiding and encouraging young and aspiring poets to excel in the field of poetry and literature.
He further said local poets have the caliber to keep the tradition of poetry in Kargil alive. Also, he emphasized the need to organize such programs at schools and colleges to impart awareness and imbibe poetic inspiration among youth.
Deputy Secretary, Nazir Hussain said that Ladakh Cultural Academy Kargil is committed to preserving and promoting rich Art, Culture, and Languages in Kargil through such literary and other programs.
He said that Ladakh Cultural Academy is open to helping people who are interested to showcase their poetic talent. He urged the novices to participate in such programs to have the know-how of the ambiance and to seek necessary guidance from senior poets.
Local poets, scholars, district officers, and a large number of the general public among others were also present on the occasion.