International Mother Language day: Culture Academy, Leh organises poetic symposium
16 poets across Nubra, Changthang and Sham regions participated in the symposium
By
Reach Ladakh Correspondent
Leh, Feb 21, 2022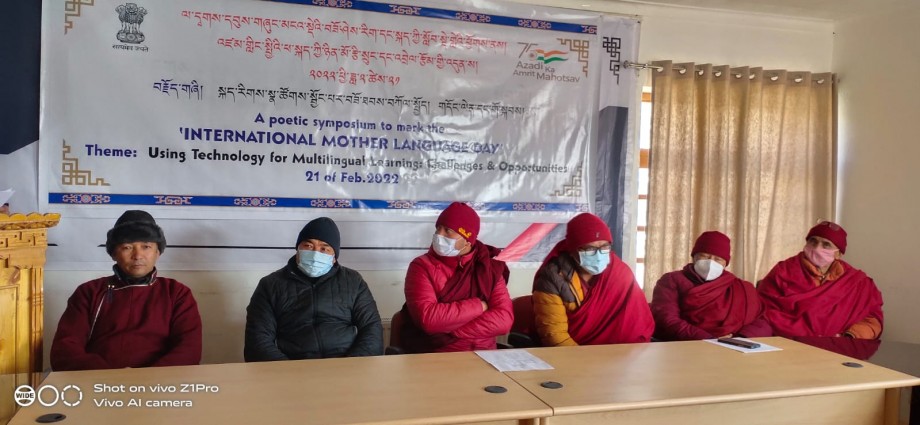 Leh :
Ladakh Academy of Art, Culture and Languages (LAACL), Leh organised a poetic symposium on the occasion of International Mother Language Day at Ladakh Academy of Art Culture and Languages on February 21 at  conference hall.
A total of 16 poets across Nubra, Changthang and Sham regions of the Leh district participated in the symposium. Besides, enthralling the audience with their poetries, they also laid emphasis on the importance of preserving and promoting mother language.
President, Culture and Language Welfare Society, Ladakh, Dr Tsewang Yangjor who is also an Assistant Professor in the Department of Bhoti Language, CIBS, Leh chaired the symposium. He expressed happiness over the observance of such an important day by providing a platform to the writers and poets to showcase and nurture their poetry skills.
He urged the youth to learn and use our own rich and complete language which forms the identity and root of all other cultural aspects. He added that maximum usage and adoration of mother language is key to its promotion.
Editor, LAACL Leh, Dr Thupstan Norboo highlighted the importance of observing International Mother Language Day. He said that mother tongue has a tremendous impact on an individual's personality and also helps improve other critical thinking skills. He added that mother language can be used as a meaningful learning tool. 
Further, he said that poetry is seen as a powerful tool to bring awareness and it can inspire youth to incline towards learning indigenous language. Therefore, the young and budding poets should lead in bringing cultural transformation through their poetries.