Cultural Academy, Leh, organises singing competition
By
Konchok Norboo
Leh, Nov 13, 2020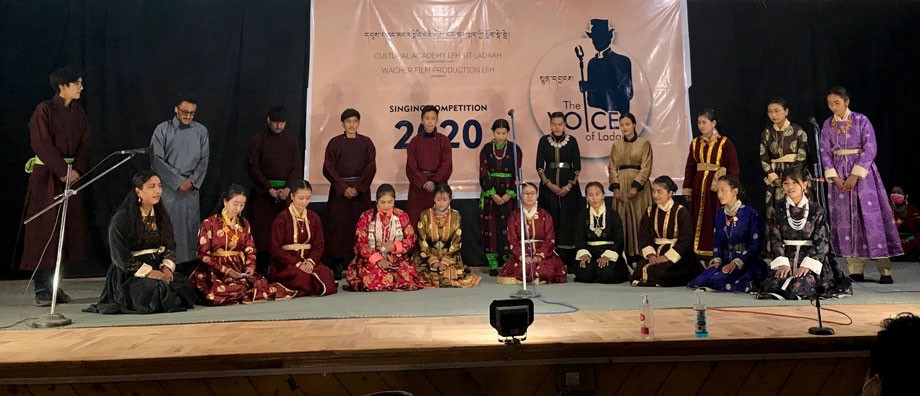 Leh :
A singing competition themed 'sNyanyang- Voice of Ladakh' was organised by Cultural Academy Leh, in association with Wacher Film production, Leh on November 12 at Lotsava Auditorium, Culture Academy. 
Students from all over Ladakh participated in the programme who were imparted five days of training by, Padmashree awardee Murup Namgyal; Director, Ladakh Theatre Organisation, Mipham Otsal, Rinchen Wacher, and other experts.
Chief Guest of the occasion, Sonam Angchok, Programme Head, DDK, Leh congratulated the students and guided them with the importance of art and culture. He said that Ladakh has a rich tradition, culture, and folks but today the early music practices are fading. Such programs know what is at stake and are spreading their unique culture and to guard it. 
He further added that huge success could be achieved with music as the reality shows are its evidence and boosted the students to take part in such talent show and not to get their morale down by mere academic failures. 
Murup Namgyal encouraged the young aspirants and praised their enthusiasm, talent and interests in Ladakhi folk. He said that the five days training is not minutely enough to know everything, rather take every day of your life as training and gain from any source available as he does so. 
Murup also admired the folk instrument players claiming it to be the backbone of any festival or occasion. 
Mipham Otsal focused on having an identity, knowing respective cultures, traditions, and nurturing it and further guarding it. He said, " Folk song 'Junglu' cannot be compared to any form of songs and any expert would fail to adapt to its style, yet the students could do it as well as learn other styles too, that's the bar Ladakhi folk has set so high and everyone must be proud and enthusiast about learning it".