Conference held on 'Condition of Bhoti Language & its significance today'
By
Rigzin Wangmo
CHOGLAMSAR, Jun 29, 2018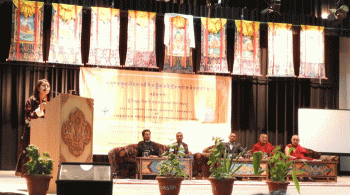 CHOGLAMSAR :
All Ladakhi college student conference on 'Condition of Bhoti Language & its significance today' was concluded at Arya Nagarjuna Auditorium, Central Institute of Buddhist Studies (CIBS) on June 27.
The three-day conference was co-organised by Student welfare committee, CIBS and Ladakh Students welfare association, CHITS, Varanasi.
A total of 150 students from college and higher secondary participated in the discussion on culture and its perseverance.
Nawang Rigzin Jora, MLA, J&K said, "The script is not only for the prayer purpose, it is a medium to share our thoughts and ideas that should be verbalized. The reason why people are not able to learn proper Bhoti language is that the script has been always been considered through religious perspective".
He further said, "The language is important because we consciously or subconsciously think in our own language. The students in the elementary level should be taught in mother tongue so that they will have a better understanding. The main reason for the language is not recognized in the 8th schedule is because we do not have the literary text. The language is part of culture and heritage. We should encourage the Bhoti writers to write more."
He later urged people to work hard to include the Bhoti language in the 8th schedule.
Geshes Konchok Wangdus, Director, CIBS said, "We should have the endeavor to get the recognition of language. The youth plays important role in every aspect and should give emphasis on Bhoti language. The schools should organise seminars to promote and develop the language".
"In future, many languages will lose its identity and there will be only a few in existence so to prevent it, we all must give importance to our mother tongue", he added.
Others present were Tsewang Thinles, President, Ladakh Buddhist Association, Ven Shedup Jampa, President, Ladakh Gonpa Association and Jamyang Tsering Namgyal, Councilor, BJP.