CEC inaugurates Tsechu Lamo Art Gallery at TRC, Leh
By
Reach Ladakh Correspondent
Leh, Sep 03, 2019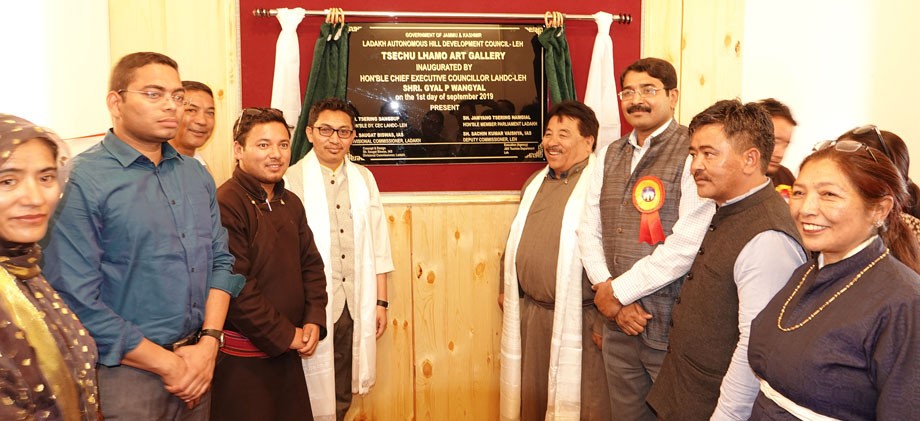 Leh :
As one of the special attractions of Ladakh Festival, 2019, a first of its kind Art Gallery was inaugurated by CEC, Hill Council, Leh Gyal P Wangyal at Tourist Reception Centre, Leh on September 1. 
 
The gallery is named Tsechu Lhamo Art Gallery dedicated to the legendary singer of Ladakh and the idea is conceived and designed by Div Com Ladakh, Saugat Biswas.
 
Gyal P Wangyal praised the concept and initiative of Saugat Biswas in opening this art gallery. He said that it would provide a good platform for the researchers and younger generations to understand the history and have a glimpse of the rich cultural heritage of Ladakh. He also appreciated the idea of having the art gallery by name of Late Tsechu Lhamo. He added that Tsechu Lhamo has a great contribution to the preservation of Ladakhi art through her matchless voice and it is the best tribute we can pay to this legendary singer on such an occasion. 
 
Addressing the media, Saugat Biswas, Saugat Div Com Ladakh said that Ladakh festival represents the rich art, culture and tradition of Ladakh which is being celebrated with the efforts of District administration to make it better and bigger every year. 
 
He said that the art gallery is a step towards promotion of Ladakhi art in a different form. He added that it would be a space for artists to display their art, conduct workshops, screen films, talk shows, readings and would emerge as a vibrant cultural centre in future.
 
Saugat Biswas also inaugurated the Archival Photo Exhibition: Exhibition of Schlagintweit Brothers photos and paintings from 1855 of Ladakh at LAMO Centre in Old Town, Leh.