Apricot Blossom-Chuli Mendoq Festival, 2021 begins in Kargil
By
Reach Ladakh Correspondent
GARKHONE, Apr 07, 2021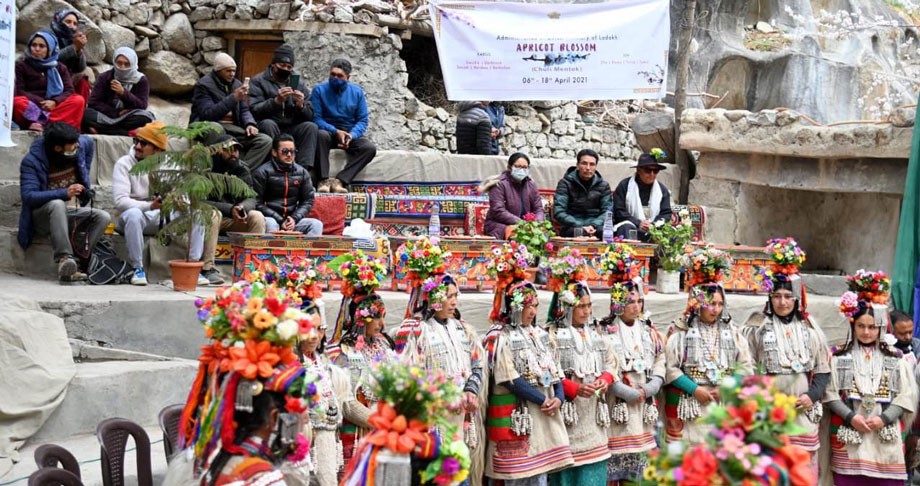 GARKHONE :
The first-ever Apricot Blossom-Chuli Mendoq festival kick-started in Garkhone village on April 6.
The festival was organised by the Department of Tourism, UT Ladakh. Director, Tourism Ladakh, Kunzes Angmo; AD Tourism Kargil, Aga Syed Taha, village community members, folk artists, and villagers were present on the occasion. 
Director, Tourism Ladakh, Kunzes Angmo said that the festival aims to popularize the apricot blossoming season of the twin districts of Kargil and Leh and an effort to bring the apricot villages of Ladakh on the national and international tourist map. She said that due to the closure of Zojila Pass and the COVID-19 pandemic tourists didn't reach the festival this year. She expressed hope that with the help of media and social media the event will reach the world which will, in turn, attract tourists for the next season. 
AD Tourism Kargil, Aga Syed Toha said that the event is an attempt of the Tourism Department UT Ladakh to celebrate this festival every year to attract maximum tourists in the region. He said that in coming years, the tour operators and other stakeholders also will be taken into confidence to extend the period of the tourist season. 
Apricot Blossom Festival is simultaneously being held in both Leh and Kargil districts from the 6th to 18th of April, 2021. In Kargil, the festival is scheduled to be held in Darchik, Garkone, Sanjak, Hardass, and Karkichoo while in Leh the festival is scheduled in the villages of Dha, Biama, Turtuk, and Tyakshi. The festival will feature a viewing of apricot blossoms, cultural programmes, plays/skits besides a display of apricot and other apricot products. 
The Apricot, known as Chulli /Halmann in Ladakhi, was introduced to the arid region of Ladakh over a century ago by Chinese traders passing through the area via the Silk Route. Now, in the 21st century, the fruit has become an integral part of Ladakh's culture, heritage, and economy. The uniquely tolerant and highly stable plant of apricot has embraced the sandy soil of the cold desert and made it one of the largest producers of apricot in India.