All-Ladakh Multilingual Mushaira held in Leh
25 poets from Leh & Kargil districts participate
By
Reach Ladakh Correspondent
Leh, Feb 01, 2020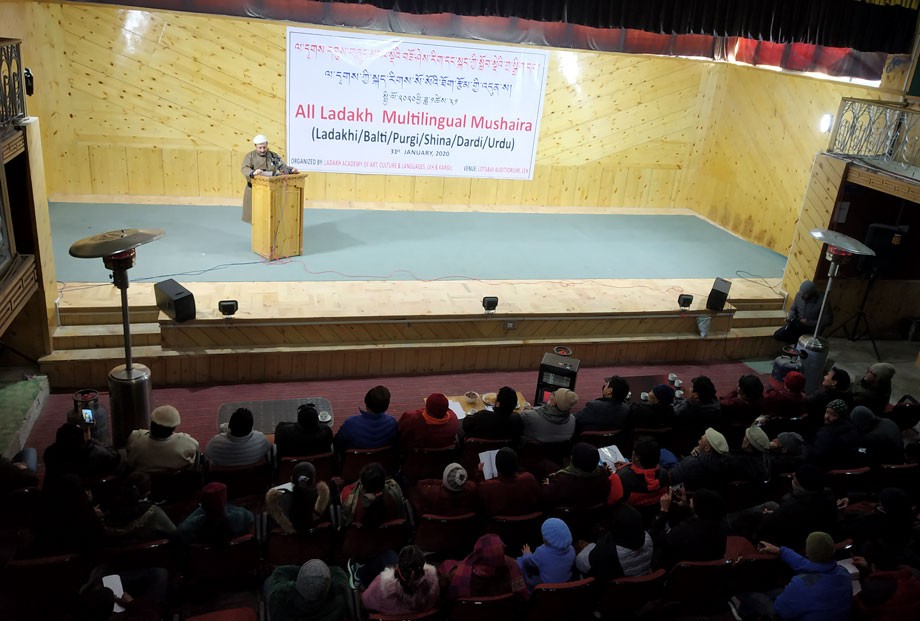 Leh :
As many as 25 poets graced the Ladakh Multilingual Mushaira-2020 which was jointly organised by Ladakh Academy of Art, Culture and Languages Leh & Kargil at Lotsava Auditorium on January 31. 
25 poets from both Leh & Kargil district rendered their poetic compositions. Poetry in Ladakhi, Purgi, Balti, Sheena, Dardi, and Brokpa languages was presented by participating poets reflecting therein cultural richness, communal harmony and brotherhood in Ladakh region.
Konchok Stanzin, Executive Councillor, Education, Hill Council was the chief guest while Akhone Asgar Ali Basharat renowned Balti Poet/Writer was the guest of honour on the occasion. 
Konchok Stanzin said that poets can play a great role in bringing positive changes in society. 
"Academy is playing a vital role for preservation & promotion of the rich art and culture of Ladakh, but this is not enough as a citizen, we all need to preserve and promote our rich cultural heritage individually", added Konchok. 
Akhone Asgar Ali Basharat also spoke and appreciated the female poets.
Tsewang Paljor, Deputy Secretary Leh welcomed the dignitaries, poets and the audience. Dr.Thupstan Nurboo, Assistant Editor Ladakhi and Ashraf Ali Sagar conducted the proceedings while Nazir Hussain Deputy Secretary Kargil delivered the vote of thanks 
Eminent Balti poet and writer Akhone Asgar Ali Basharat; Tsering Norboo, Martse;Khayal Ladakhi;Tsering Sonam, Sopari; Dr. Tsewang Yangjor( Zanskar); Tsering Dolkar( Nubra); Konchok Namgyal (Changthang); Mohd Ali, Chushot; Abdul Rahim, Turtuk; Nazir Hussain, Turtuk;Masuma Bano; Sibte Hassan Kaleem; Ashraf Ali Sagar; Mumhammad Asgar Aasi; .Raza Amjad Badgami; Fida Ali Fida Badgami; Muhammad Ali Baba;Muhammad Taqi Khan Nayaab;Sajjad Ali Shujaat; Muhammad Jawad Jalib; and Muhammad Ali Khumar participated.