2nd Ladakh Nomadic Festival concludes with full zest 
By
Reach Ladakh Correspondent
Changthang, Aug 23, 2022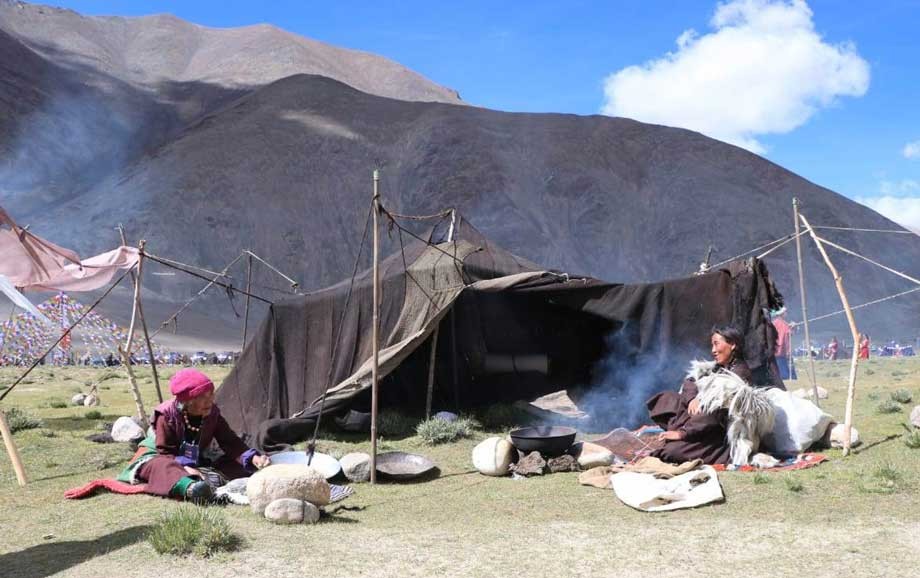 Changthang :
2nd Ladakh Nomadic festival 2022 concluded on August 21at Chibbra village of Kargyam (Lalok) valley in Changthang. 
The two-day festival was organised by Ladakh Cultural Academy, Leh to celebrate the life and glory of Changpa Heros like Ra-zhees (shepherds), Yak-zhees, Bar-zhees, and Ta-zhees always happy accepting challenges in their way and dedicating their life for the survival of others in a way. The main objective behind holding such a mega event in Chibra, Kargyam (Lalok Changthang) is to celebrate the challenging Nomadic life well within their territory, letting their younger educated nomadic youth realize the beauty and uniqueness of the nomadic culture they are living in. 
People from across the Changthang region led by their village representatives participated in the festival. Vibrant traditional cultural performances from across the Changthang region were showcased. Also, the special attractions during the festival were the Nomadic Bazaar (Market) having Handicraft and Handloom products, nomadic cuisine, a nomadic museum, traditional sports including archery and horse racing, monastic mask dance, traditional marriages, agricultural and spiritual practices, a mock celebration of local festivals and various other leisure attractions. 
On August 20, Member Parliament, Ladakh, Jamyang Tsering Namgyal inaugurated the festival. 
Addressing the gathering during the closing ceremony, Chairman/CEC, LAHDC Leh, Adv. Tashi Gyalson said, "Celebration this year is beyond my imagination as I have witnessed huge participation from the local nomadic settlements/villages across the Changthang region. The festival has been organised to celebrate the glory of a completely nomadic lifestyle with their culture in its pristine form. We have initiated such a festival also to boost the local economy through the promotion of Tourism in uncovered regions like Kargyam and many other regions of Leh Ladakh. These tribal festivals are very rare to find in modem-day times and we are collectively trying our best to explore and make it grand in the future."
Ladakh Nomadic festival would also have a lasting impression on the future generation inspiring them to adopt their own nomadic life thus contributing to and preserving the nomadic culture of Ladakh.