11 students from Ladakh to participate in National level Kala Utsav-2021
By
Reach Ladakh Correspondent
Leh, Dec 10, 2021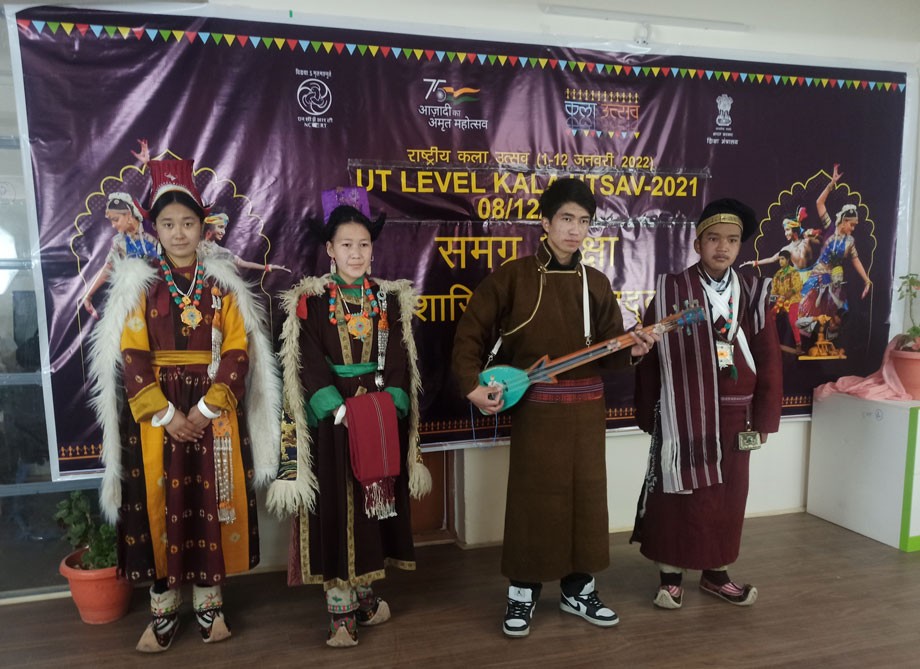 Leh :
The Department of School Education, Ladakh organised the UT level Kala Utsav-2021 competition in both Leh and Kargil district through online and offline mode on December 8.
The jury from both the districts assessed the performances of the district finalist through live 
streaming as well as live performances. The selected students of both the districts performed vocal music- traditional folk, instrumental music- traditional folk, dance- folk, visual arts (2D), visual arts (3D), and indigenous toys and games. The selected candidates/finalists would participate in the National level Kala Utsav-2021 through live streaming which would be held in January 2022.
Speaking on the occasion, Director, School Education, UT Ladakh, Dr. Safdar Ali emphasized the importance of arts in the overall personality development of a child. 
Kala Utsav is an initiative of the Department of School Education and Literacy, Ministry of Education (MOE), Government of India, launched in 2015 to promote arts in education by nurturing and showcasing the artistic talent of school students at the secondary level in the country.
The finalists selected for representing UT Ladakh in the National level Kala Utsav-2021 are:
Name of the Student

Class

School

Name of the Art

Form /Category

Changchup Dorje

10th

Govt. High School Chumathang, Leh

Folk Dance

Rinchen Dolker

12th

Govt. Higher Secondary School Chushot Shamma, Leh

Folk Dance

Norboo Zangpo

11th

Govt. Higher Secondary School Diskit, Nubra

Folk Song

Rigzen Angmo

12th

Lamdon Model Senior Secondary School, Leh

Folk Song

Tsering Kunsal

12th

Lamdon Model Senior Secondary School, Leh

Traditional

Instrument

Mustafa Ali

9th

Govt. Higher Secondary School Trespone, Kargil

Visual Art (2d)

Kaneez Fatima

10th

Govt. High School Baroo, Kargil

Visual Art (2d)

Sonam Stanzin

9th

Govt. High School Liker, Leh

Visual Art (3-D)

Zarifa Banoo

11th

Ashrm Hr. Sec. School, Sankoo

Visual Art (3-D)

Shujat Ali

11th

Army Goodwill School Harka Bahadur, Kargil

Indigenous toy/Games

Saira Bano

11th

Govt. Higher Secondary School, Diskit

Indigenous toy/Games