In Conversation with Stanzin Mutup, Traditional Sculpture
By
Stanzin Dasal
Leh, Aug 03, 2020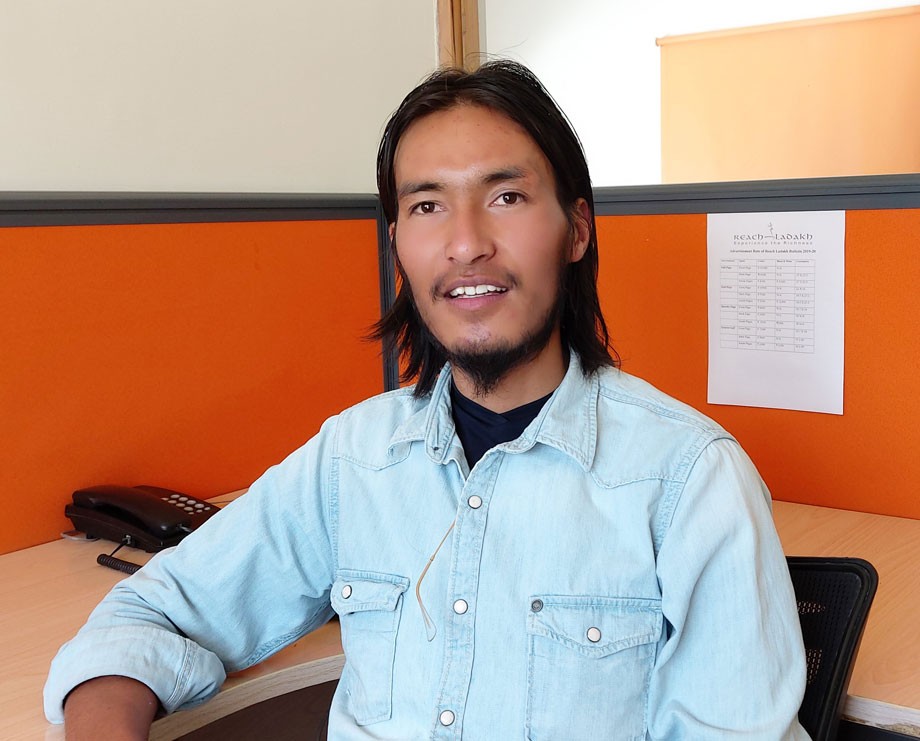 Leh :
Q. Describe your journey as an artist, starting with your studies in Tibetan traditional sculpture.
I love art and have the artist in me right from my very childhood days. Artwork in Buddhist monasteries including spectacular statues, wall paintings, and other artifacts, has always attracted me. You can say I got inspired by those rich artworks and decided to learn it. After class 8th, I pursued 6 years degree course in Tibetan traditional sculpture from the Central Institute of Buddhist Studies, Leh Ladakh. In 2014 I completed my studies. 
From 2015 I have been working as a professional and created several projects such as 5feet statues of Sakya Pandita and Gyaltsab je (one of the key disciples of Je Tsongkhapa), 2 feet statue of 4th Panchen Lama Lobsang Chokyi Gyaltsen at Tashi Lhunpo Monastery, Bylakuppe, Karnataka. Along with my colleague, I sculpted 13 feet statue of thousand armed Arya Avalokisteshwara and 5 feet statue of 4th Gyalwang Drukpa at Thukjey monastery in Tsokar, Changthang. Likewise, I completed many other sculptures for different monasteries in Ladakh. 
Q. Tell us about the process of making your artwork? What type of material do you prefer to use and are these materials available in Ladakh? 
I prefer working with clay which is the prime material for the sculpting process. Along with it, other material such as cotton, jute, wood,  iron is used. All these materials are easily available in the region.  
Right from the molding of clay into the desired shape till the final colouring, the whole of my sculpting process is handmade; there is no use of machinery.  
Q. You also worked on the restoration project at different places. Share the experiences and the need for restoration.
My interest in the restoration of old statues and artifacts is as equal as the sculpting process. Ladakh has centuries-old monasteries, statues, and paintings which is rare and precious. Many of the old heritages are being restored and many are still in need. I restored old statues in Nubra valley, Stok, and Shey Palace. Some of those statues were 100 years old and while working on it extra care is needed because we have to keep the originality intact.  
Like it is said, 'learning never ends', I experienced many things while doing restoration work. The material used, structures and many other things of ancient art benefits me in my work further.
Conserving art is about saving old heritage which gets deteriorated due to environmental factors as well as human vandalism. Restoration is very much different than creating a new project, it got risk and needs more time (depending on the pieces). It is all about passing the ancient glory to future generations.
Q. Can you tell us about the status of traditional art in Ladakh? Are today's young generations interested in it?
Traditional art holds a very important place and valued more in Ladakh. With the growing development, it is very obvious to see change but the need and importance of traditional art are not fading away. Earlier to make statues, clay was the most used resource and is also believed that clay made idols have more importance, eco friendly, and spiritual value. In today's world, we see the use of cement, fiberglass, fake bronze &brace, and many others. With time we see many changes such as in the use of different materials but the need and importance of traditional art are still there. 
There is a demand but we need more and more of local sculptures to carry forward. In this fast-growing world, many of the youths look for easy money, and also the thinking of an individual's family or society to get full-time job hindrances many to pursue art for long. Many after learning art discontinue it
Q. Brief us the potential we have in traditional art and how to promote it further?
There is great potential in traditional art which needs to be promoted further. At present, in Ladakh, one can pursue traditional art professionally from the Central Institute of Buddhist Studies which is the only institute available so far. Apart from that many learn from private teachers. There is a need for more institutes for art with proper facilities so that aspirant artists can have an option to pursue the course professionally. The introduction of art is needed right from childhood days like other subjects. 
There is a need to make the importance of art known, in order to develop interest. Many take traditional art as the last option to learn if got nowhere that perception needs to be changed. The artist plays an important role in society and to be a good artist one has to be skillful, hardworking, determined, and patience. 
Q. What are you working on now and what are your future plans?
At present, I am working on a sculpture making project of Thiksey monastery and Mulbekh. My plan is to learn restoration work professionally and continue with it. 
Message to the readers
"Pursue what you are interested in wholeheartedly, keep patience, work hard and success is yours. Also, there is an immense need for support and encouragement at all levels."