Meeting held to implement Mission Organic Development Initiative in Kargil district
By
Reach Ladakh Correspondent
Kargil, Jul 09, 2020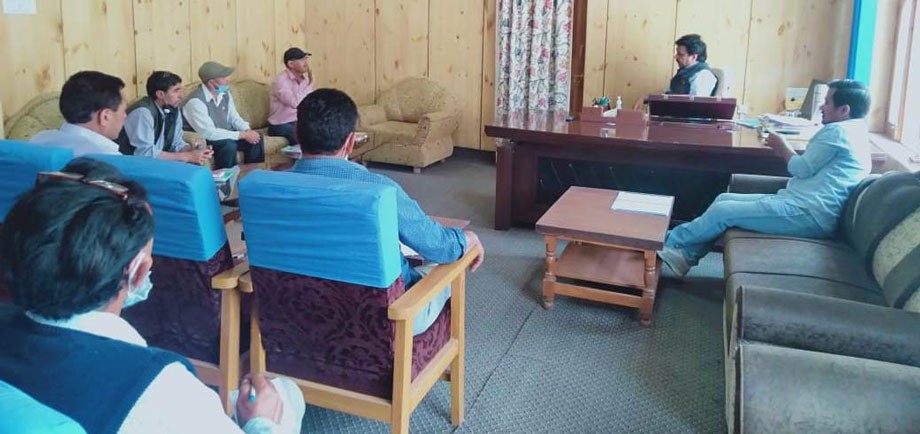 Kargil :
A review meeting on the implementation of Mission Organic Development Initiative (MODI) and Deep Winter Green House Farming schemes was convened by Feroz Ahmed Khan, CEC, Hill Council, Kargil on July 8.
 
The schemes were launched for Ladakh UT by Lieutenant Governor, R.K Mathur.
 
Necessary measures and steps to be taken for implementation of the schemes in Kargil district were discussed.
 
Feroz Ahmed Khan underlined the importance of the schemes for enhancement of farmers' economy in the district. He directed the officers concerned to publicize the schemes through print, electronic, and social media for information of the farmers before finalizing the list of the beneficiaries. Also, he asked the officers to conduct target specific seminars and awareness programs to sensitize the farmers and to ensure that they are informed about the schemes well in time.
 
EC Agriculture Muhammad Ali Chandan proposed that before the implementation of the above schemes in the district, a meeting with the Councilors of the LAHDC Kargil may be conducted to solicit their views and suggestions for successful implementation at ground level.
 
Feroz Ahmed khan said that a meeting in this regard would be convened shortly. Also, Hill Council Kargil in consultation with Hill Council, Leh will send a proposal to execute all the civil works through a dedicated agency having due experience of construction of Deep Winter Green Houses to ensure uniformity of design and longevity of the project.
Concerned officers were asked to gear up their field functionaries for successful implementation of the schemes at ground level without any hindrance by keeping close liaison with farmers in all blocks of the district.
 
Chief Agriculture Officer, Kargil, Kacho Muhammad Ali Khan; Chief Horticulture Officer, Kargil, Muhammad Zafar; District Horticulture Officer, Kargil, Ali Raza besides other concerned officers attended the meeting.