Ladakh youth anxious about job opportunities in UT set-up
Demand job reservations, separate Public Service Commission for Ladakh
By
Stanzin Dasal
Leh, Aug 01, 2020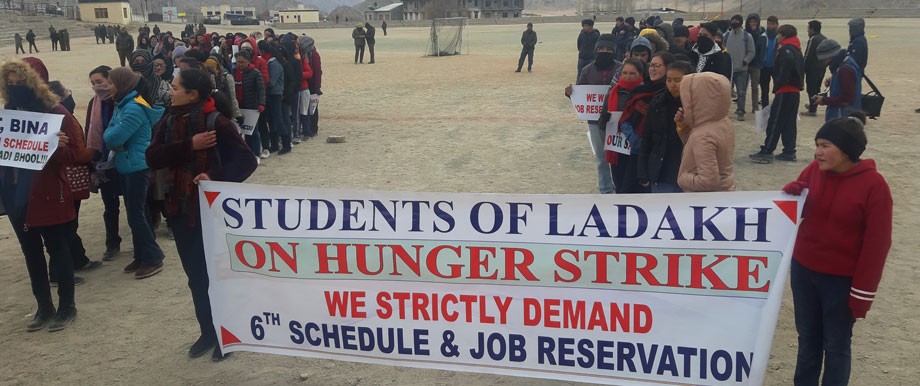 Leh :
With just a few more days left to celebrate the first anniversary of the creation of Ladakh as a union territory, people of Ladakh expressed mixed responses over the parliamentary enactment but remain determined in their demand for safeguards to protect lands, job, environment, and culture. 
Apprehensions among Ladakhi youths, especially on employment generation and recruitment in the new Union Territory set-up is increasing as the administration has so far not issued any notifications related to jobs. 
More than 5,000 posts, including 1,000 gazetted posts, are lying vacant in different departments of UT Ladakh. Youth from Ladakh alleged that the much-promised UT status has created more chaos and confusion among them. They complained that youth are facing a crisis as there are limited job opportunities in the new Union Territory set-up. 
Jigmat Paljor, Coordinator, LEAF, said, "It is disheartening to see the current situation. Youths are concerned about their future as there has been no job opening so far. Moreover, there is no job policy in UT Ladakh. When we got the status of a union territory, there were huge expectations and new hope of employment opportunities. However, the youth of Ladakh have been left vulnerable."
Jigmet also questioned the transfer of employees on deputation from UT Jammu and Kashmir. "Transfer of officials on deputation at this point of time is understandable, but what about employees such as assistants, guards, and drivers who are also being deputed from outside Ladakh. What is the logic behind this?"
Rigzin Samphel, Commissioner Secretary, UT Ladakh, said, "Ladakh is starting from a scratch after the formation of UT Ladakh and it will take time for things to get back on track. Hopefully, the new domicile law or reservation policy for Ladakh will be issued by the Home Ministry in a month or two."
The administration of UT Ladakh is also understaffed and most of the officials are looking after 3 to 4 departments whereas many departments are still without any head. Outsourcing staff to cope up with the shortage of manpower until a permanent solution is found seems to be the only alternative at the moment. 
Umang Narula, Advisor to the Lieutenant Governor, UT Ladakh, wrote a letter to the Government of UT Jammu and Kashmir on June 30 requesting deputation of officers/ officials against the vacant post in Ladakh for a period of two years. 
In April and May, as many as 110 doctors were recruited from different parts of the country under the National Health Mission (NHM) scheme. On July 20, Jammu and Kashmir administration issued an order to transfer 108 officials on deputation to different departments in Ladakh, including General Administration, Education, Finance, Rural Development, and Panchayati Raj, Housing and Urban Development, Power development, Transport, Food Civil Supplies, and Consumer Affairs, Revenue, Public Work (R&B), Tourism, Culture Department, Jal Shakti and School Education. 

Ladakh Student Educational & Environmental Action Forum submitted a copy of the memorandum to Lieutenant Governor, R K Mathur on December 18, 2019, in which they expressed their concerns regarding recruitment in UT Ladakh. They also highlighted the importance of a separate PSC for UT Ladakh.
Ladakhi youth are concerned about the outsourcing of employees from other parts of the country by the UT administration. Voices have also been raised demanding a separate Public Service Commission for Ladakh so that aspirants from the region can apply for a gazetted post.  
On July 24, student associations with the support of all the religious and political organisations called a strike against discrimination in jobs and recruitment. The protest was staged in response to the decision taken by Jammu and Kashmir Bank in which candidates from Ladakh are no longer eligible to apply for the newly advertised posts in J&K Bank. However, according to a press statement issued by J&K Bank Chairman and Managing Director (CMD), R K Chibber, the Bank will initiate a recruitment drive for filling up posts of Probationary Officers and Banking Associates for Ladakh as well.
The press statement reads, "Candidates from UT Ladakh have been left out after the Bank had recently announced a recruitment drive for J&K UT. But let me assure them that they shall also have a chance to showcase their talent and add value to the vibrant human capital as the bank shall shortly come up with a notification after meeting all regulatory norms and launch a special recruitment drive for Ladakh UT as well."
Saif Ali Khan, a youth leader from Kargil district, said, "It has almost been a year since Ladakh was declared as a union territory but job policy and recruitment board are still lacking. Unemployment is a major concern in Ladakh and many are still waiting for job openings".
Talking about reservations, Saif said that Ladakh need safeguards to protect land and job. "Ladakh needs a domicile law favouring people of the region," he added.