Hill Council, Leh, to start implementing Ladakh Organic Mission this year
Project to be completed in three phases by 2025, at a cost of ₹ 45 cr, says EC Agriculture
By
Reach Ladakh Correspondent
Leh, Jun 13, 2019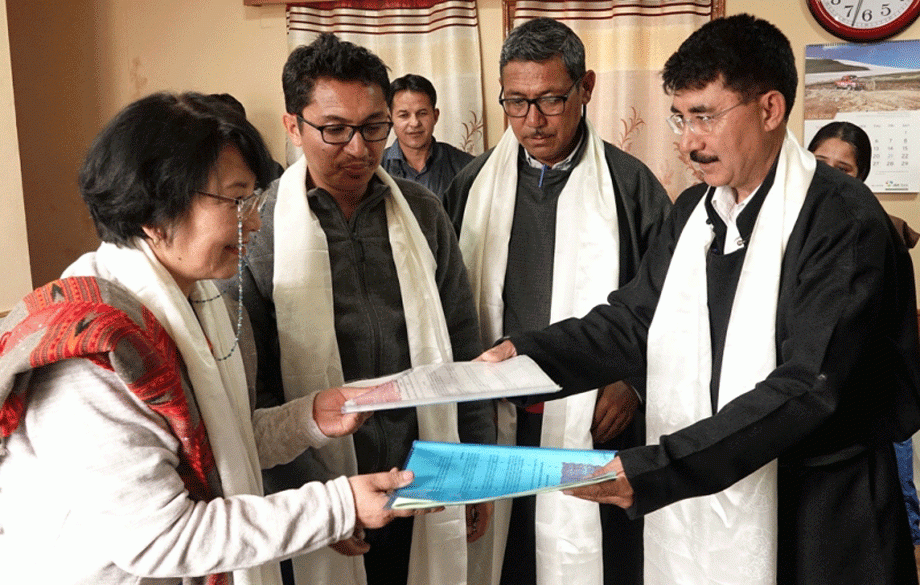 Leh :
To implement Ladakh Organic Mission in Leh district from this year, memorandum of understanding (MoU) was signed and exchanged between Sikkim State Organic Certification Agency (SSOCA), Sikkim and Department of Agriculture, Hill Council, Leh on June 12 at Council secretariat.
Jamyang Tsering Namgyal, CEC said that it is a historic moment for the farmers of Leh district to commence the implementation of Ladakh Organic Mission in Leh which is a long pending dream of Hill Council, Leh. He said that in the past few months, representatives from Hill Council, Leh has visited Sikkim to learn and understand the functioning of organic farming.  Series of meetings in Leh with  Hill Council members, district officers, scientists and local experts were held to have deliberations on making Leh district completely an organic region. 
He expressed gratitude to the representative of Sikkim Government, Sherab Latso Dorjey, Chief Executive Officer, SSOCA, Sikkim for the time, commitment and support of Sikkim government in making Ladakh Organic Mission achievable.
Stating that the Hill Council has framed a draft policy on making Leh district an organic region for the first time, Jamyang said that it is time to implement this policy with the signing of the MoU with SSOCA, Sikkim for 5 years. 
He said that there will be an exchange of ideas, knowledge, expertise, and training between Sikkim and Leh in the coming years to complete the project by 2025, a target to turn entire Leh district into organic farming. 
He also appreciated the efforts of officers and the staff of the agriculture department, scientists and experts for their inputs and hoped for their constant support in achieving the goal by 2025.
Sherab Latso Dorjey appraised everyone about the duties and functioning of SOCCA under Sikkim Government as a recognized agency in providing organic certification.
She said that Ladakh having scattered areas with clustered villages have the potential to go for organic farming in a much easier way as compared to Sikkim. Ladakh by default is organic and getting an organic certification will benefit the local farmers to grow organic produce with low cost of cultivation, zero dependent on outside outputs like urea, fertilizers, seeds and a better opportunity to sell their organic produce outside Ladakh. 
She gave full assurance to help Hill Council, Leh in getting the organic certification and other supports like capacity building and guidance in a phased manner.
Phuntsog Stanzin, EC Agriculture informed that the first phase of the Ladakh Organic Mission in Leh district will start from this year with an estimated cost of ₹ 30 lakh. The project will be completed in three phases by 2025 at an estimated cost of ₹ 45 crores. 
In the first phase, registration formalities will be done and around 34 villages will be covered. The project includes certification process, public awareness programme, training to officers and field staff of the agriculture department.